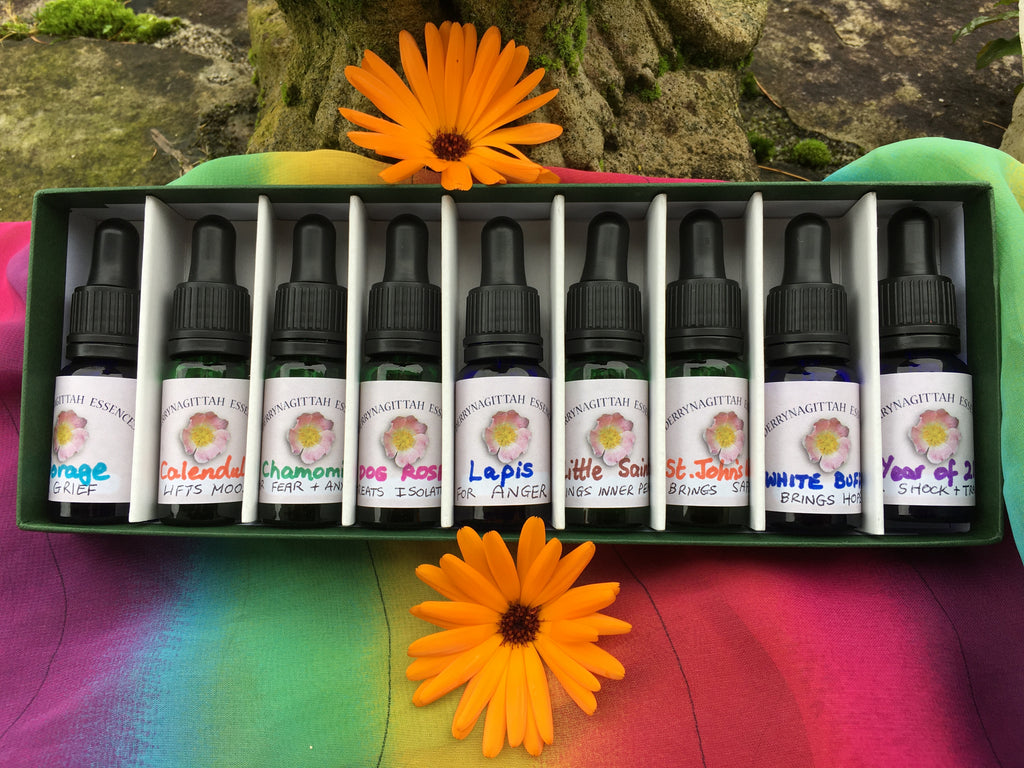 Essences for Turbulent Times
$80.00 USD
We are living in turbulent times and many people are facing intense challenges.
I am frequently being asked to recommend essences for specific difficulties and this has prompted me to create a new set of offerings that are particularly helpful right now.
This boxed set contains 9 stock essences to help negotiate these unique times of transition.
Each essence comes with a selection of associated affirmations or positive statements that help enhance its effect. Choose one affirmation for each essence you are taking, choosing the statement that most describes how you would like to feel. Speak the affirmation out loud every time you take the essence. Say it with conviction and feel it as truth. Other ways to use affirmations include meditation or writing them down and displaying them in a prominent place.
SHOCK & TRAUMA  Year of 21   'I am calm, soothed & steady' 'I recover from past trauma' 'My heart is at peace'
FEAR & ANXIETY  Chamomile 'I let go of fear' 'I am serene & courageous' 'I have all the courage I need'
GRIEF  Borage  'My heart sings' 'My heart is soothed' 'I reclaim my radiance and joy'
HOPELESSNESS/DESPAIR  White Buffalo 'I hold onto hope in uncertain times' 'I have hope & confidence in the future' 'I look on the bright side'
FEELING ALONE/ISOLATION  Dog Rose 'I am never alone' 'I am supported and loved' 'I know we are all connected' 'I have all the help I need'
ANGER Lapis 'I open my heart to others' 'I forgive others as I forgive myself' 'I let go of blame and bitterness' 'I take responsibility for my life'
DEPRESSION/LOW MOOD Calendula 'My heart is full of joy' 'I am alive with interest in life' 'I sparkle with vitality'
INNER TURMOIL Little Saints 'I hold strong & steady in times of stress' 'I remain strong under extreme stress' 'I choose to be balanced & stable at all times' 'I receive clear guidance & support'
VULNERABILITY  St Johns Wort 'I know my world is a safe place' 'I trust in life itself' "I am divinely protected' 'I am confident and protected'
The set of 9 essences is available at 10% discount (€72 plus P&P)

Related products